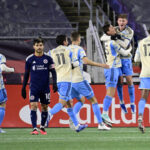 The New England Revolution 2023 season needs to be split into two different sections owing to the mass chaos that ensued at Foxborough. They were flying high in second but then off-field drama bled into the performances on the field and so it all came crashing down. This is Last Word on Soccer's recap of the Revs' 2023 campaign.
New England Revolution 2023 Season Recap
Life Under Bruce Arena
With a 1-0 win over Charlotte FC, Bruce Arena's fourth full season at the helm in New England got underway. The Revolution went flying out of the blocks in fact, their only defeat in the opening 11 games being a 4-0 drubbing at the hands of LAFC.
Other than that, Arena's men beat the likes of Nashville SC and Sporting Kansas City. Fluctuations occurred, as is to be expected, with a notable dry spell coming as May turned to April, losing twice and then drawing three times.
Armchair Analyst: New England's season went up in smoke when Bruce Arena was suspended, then resigned.

But the core of a team that was on course for 65 points remains, and they have the resources to do serious work this winter.https://t.co/QPngjZEvv3 pic.twitter.com/p9APj7bPUZ

— Matthew Doyle (@MattDoyle76) November 14, 2023
New England were flying high in the upper echelons of the Eastern Conference, with only FC Cincinnati ahead of them in the standings. The red mist then descended upon Gillette Stadium with a whirlwind of drama and confusion regarding Bruce Arena.
Arena was suspended after reports of misconduct were made to the league, yet there is still no one outside of the organisation that knows a single detail. It goes without saying that if anything out of line or discriminatory was said, then the sporting director deserved to be punished, but it surely could have been handled differently, and within house.
Defender Omar Gonzalez echoed these sentiments when asked about the whole debacle by Seth Macomber, Sam Minton and Tom Quinlan in the wake of the playoff exit. "I've never experienced the way this played out" were Gonzalez's words and he also made it clear that he and his teammates still have no idea what happened as well.
Read More: Exclusive Interview: Jacob Jackson Talks MLS Cup Playoffs, Loving Life As A Goalkeeper, His Passion For Golf And Much More…
The Capitulation of the New England Revolution 2023 Season
The capitulation of the New England Revolution 2023 season ties in directly with the suspension and subsequent departure of Arena, with Omar Gonzalez labelling it as the "turning point." Richie Williams took interim charge for just a matter of days, conducted a press conference in which he was asked a lot of hard-hitting questions and then he was relieved of his duties as well. Clint Peay then took over and held the position for the rest of the season.
New England capitulated both on and off of the field which led to them finishing sixth in the Eastern Conference. From September onwards, the side earned 2 wins, 3 draws and 6 defeats including three straight losses prior to decision day- indicative of the ever-growing mess.
Omar Gonzalez speaks for over six minutes about the 2023 New England Revolution season.

Questions by me, @TommyQuinlan_IV, and @Sam_Minton22 #NERevs pic.twitter.com/8ifz91FNr8

— Seth (@SethMan31) November 9, 2023
"Those guys didn't work together. Richie [Williams], Shalrie [Joseph] and Dave [Van den Bergh], they had a really bad relationship" was another telling quote from the infamous chat between Omar and the aforementioned media members. The latter two posted their support for Arena on social media in the wake of the drama and so it became all the more clear where various people's allegiances lie.
An Early Playoff Exit
Three consecutive clashes with the Philadelphia Union brought the New England Revolution 2023 season to a close. It first began on decision day and Gustavo Bou struck twice to give Clint Peay's team a somewhat unlikely victory.
Bou was on target again when his side visited Subaru Park but it was simply a consolation goal after the Union had scored three of their own in the first half. Daniel Gazdag, Mikael Uhre and Nathan Harriel were the scorers that gave Philly a win to kickstart their best-of-3 campaign against the Revs.
The Revolution looked much better in the second clash when they were back on home soil but Mark-Anthony Kaye was sent off on the brink of half-time and this changed everything. The Canadian international looked to have stamped and/or left a lazy leg in on Gazdag and his team paid the price. Peay's men were able to keep fighting despite being a man down but substitute Chris Donovan was able to beat Earl Edwards Junior with a decisive strike.
FINAL#NERevs | @SantanderBankUS pic.twitter.com/ZpRaUnBI61

— New England Revolution (@NERevolution) November 9, 2023
New England were unable to take it to a third game, losing it in two and seeing any fading hope of MLS Cup glory extinguished right in front of their very eyes. This season brought some high highs but also the lowest of lows which no one could have anticipated.
Captain Carles Gil had this to say about 2023. "Disappointing end of the season. Difficult season- many things happened off of the pitch." He then went on to say that it is difficult to look ahead to next year already, especially given the uncertainty in the coaching position, and that now is a time for rest and relaxation.
That is the New England Revolution 2023 season in the books and this promises to be a hugely interesting off-season. A number of key players may well be coming and going and there is of course the task of sorting out the hierarchy and deciding on a new head coach. All will become clearer soon enough.
Featured image credit: Eric Canha-USA TODAY Sports, taken November 8, 2023.
The post New England Revolution 2023 Season Recap: A Year to Forget appeared first on Last Word On Soccer.