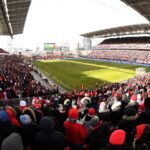 It is not every day that the CanMNT sees a fresh-faced 18-year-old called up to the senior team. Add the fact that he has already played for English Premier League side Fulham at the senior level despite his age, and more than a few eyebrows might have been raised when Interim Head Coach named Luc de Fougerolles in the squad for the upcoming Nations League Quarter-Final games against Jamaica. But those who have been following this young man's career will know that this call-up is what is to be expected from this exciting young defender.
Luc de Fougerolles: CanMNT's Newest Starlet?
Happy Birthday to #CANMNT's Luc de Fougerolles! pic.twitter.com/W3XBWYfH8Q

— Canada Soccer (@CanadaSoccerEN) October 12, 2023
English-Born, Canadian Roots
Luc de Fougerolles was born in London, England, the capital of the country and a city rife with footballing heritage. His father was born in Montreal but raised his sons to love the game as much as the folk around them. He was six years old when he joined Fulham's academy, after impressing some youth scouts with his tenacity despite his diminutive size. He has been in the Fulham system since then, despite having interest from other clubs like Chelsea.
"I've been there my whole life basically, knowing the people there [and] loving it," de Fougerolles said to CBC.ca. And since his young age, he has been impressing those around him in his capability to not only rise to a challenge but to excel at it. A versatile player that can play at center-back, full-back and even midfield, it is no wonder then that he featured for Fulham's U18 side when he was just 15. And not shortly after, he began to feature for the U21 side at the tender age of just 17.
"[His progress] told you he was on the fast track," Steve Wigley, former Fulham under-18 coach and current Fulham academy technical director, remarked to the Athletic. "As he's moved up, his performances have been pretty seamless."
So much so were his performances seamless that it did not take long for him to start to knock at the doors of senior appearances.
Fully deserved!

Young right-back Luc De Fougerolles has signed his first pro deal. #FFC

— Fulham Football Club (@FulhamFC) April 6, 2023
First Strides into Professional Football
It began with his first professional contract last April. de Fougerolles was pinned to a permanent deal, amid much fanfare. He was included in a few matchday squads of the first team this season but had to wait until the beginning of this month to have his first full taste of professional football.
Until then, he had been featuring often for Fulham's Premier League 2 side, garnering five appearances across eight matchdays. But on November 1st, in a fourth-round EFL Cup tie, de Fougerolles laced up his shoes for the first time as a senior starter. Fulham ended the victors that evening, winning by the tune of three goals to one. But all eyes were on the young 18-year-old man who had not only put in a full 90-minute shift, but did so convincingly. So convincingly, that he earned the award for Man of the Match on his debut. A stellar sign for future success.
But while it took until this match for many Canadians to take notice of the exciting dual-national coming out of England, those within the Canada Soccer camp have been keeping a close eye on him for some time. Now-Interim Head Coach of the CanMNT Mauro Biello had called on him to feature for the U20 side last year, but a clash with his GCSE exams and later a bout with COVID-19 prevented him from taking up the call. Nevertheless, he was still on Biello's radar, even after getting the senior team job.
5 duels won
66 touches
57/63 accurate passes

Luc de Fougerolles was your MOTM against Ipswich! pic.twitter.com/vA9mTOvWOW

— Fulham Football Club (@FulhamFC) November 2, 2023
The Future of the CanMNT?
Biello called de Fougerolles up for the CanMNT vs Japan camp earlier this fall, a clear sign of intent in testing the young lad while also demonstrating the country's purpose to not let another talented dual-national slip away. And while he did not make an appearance in Canada's disappointing 4-1 loss, watching it idly from the bench, his workrate and intelligence must have impressed Biello enough to call him up once more for this crucial tie against the Reggae Boyz.
"He's done really well," Biello told CBC.ca from Japan this past October. "A young kid, he's blended in. He's brave on the ball, and really confident. He's fearless defensively. It's really good to get him into the environment. He fit right in."
Fulham's Scholar of the Year last year, de Fougerolles clearly shows that his intelligence isn't just limited to what he produces on the pitch. He is a bright young man who comes in at a time when change is coming for the CanMNT. The transition from the old guard to the new crop ahead of the 2026 World Cup is imminent. As former CanMNT Head Coach John Herdman previously stressed, Canada needs to rely on the talented dual-nationals that either have called or can call Canada their home, to continue to evolve and improve ahead of the World's Biggest Stage.
De Fougerolles is still a diamond in the rough at his fledgling age, but he could mark the beginnings of an even brighter future for the CanMNT – if Canada does enough to convince him to be part of it. Time will tell if both paths align and CanMNT fans will get to see his name on the back of the famous Red and White a lot more in the future.
READ MORE: An Emphasis on "Brotherhood": Latest CanMNT Roster Reaction
Things you love to see!

Senior call-ups for Luc De Fougerolles and Matt Dibley-Dias…

— Fulham Football Club (@FulhamFC) October 5, 2023
Game Time
READ MORE: Derek Cornelius: The CanMNT's Important Centre-Back
CanMNT face Jamaica for the Nations League Quarter-Finals starting on Friday November 17th at BMO Field, before heading out to Jamaica for the return leg on Tuesday, November 21st. Both matches are available to watch on OneSoccer.ca and FuboTV. 
Photo Credit: Dan Hamilton-USA TODAY Sports, of a BMO Field Headshot, on March 27, 2022.
The post Luc de Fougerolles: CanMNT's Newest Starlet? appeared first on Last Word On Soccer.