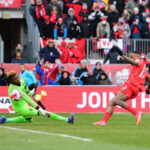 Jamaica vs. CanMNT will be one of four Concacaf Nations League ties that will be played in the month of November. The first game between these two teams will be on Friday, when the Canadians will travel to face the Reggae Boyz from Jamaica at Independence Park.
Jamaica vs CanMNT Predictions at Independence Park
Jamaica (3-1-1)
Jamaica made this stage of the 2023-24 Concacaf Nations League after finishing first in Group B with three wins and one draw. This includes two tough games against Haiti, where they were behind and came back to win the game on the road, and another to draw at home. This is what Jamaican head coach, Heimir Hallgrimsson, said about the draw where they came from behind a two-goal deficit:
"If we take away two or three mistakes we made and gave them chances, I think we played a really good game but the coach is always the most pleased with the character that they showed. They fought until the end. We wanted the win. Everybody saw that. We pushed for the win, so I'm mostly pleased with the character of the team and the togetherness to win this game. It's tough to be slapped in the face two times in the early stage of the game."
Jamaica is a team to be reckoned with as they made the semi-finals stage of the 2022 Concacaf Gold Cup, where they ended up losing to Mexico by a scoreline of 3-0.
Our Squad to Face Canada in the CONCACAF Nations League pic.twitter.com/3Xl96zmH7e

— Official J.F.F (@jff_football) November 12, 2023
Canadians might recognize Vancouver Whitecaps FC player, Javain Brown, as part of the squad. There is also, of course, Andre Blake, who is a three-time winner of MLS Goalkeeper of the Year award and who currently plays for the Philadelphia Union.
Players that Canada needs to be wary of are the Jamaicans' forwards, Shamar Nicholson and Leon Bailey. Nicholson currently plays for Spartak Moscow, but is currently on loan and is playing for French Ligue 1 club, Clermont, where he has had one goal in seven games.
As for Leon Bailey, he currently plays in the Barclays Premier League for Aston Villa. Right now, with Jamaica, he has had three goals in five games and also three goals in five games in European competitions.
CanMNT (2-1-2)
The CanMNT head into Friday with many of their core players with only a few changes. Mauro Biello talks about the game against Jamaica. A concern for Canada, might be the struggling forms of their two all-time leading goalscorers, Cyle Larin and Jonathan David (source: Tom Nightingale of Canadian Soccer Daily):
"When players go through certain moments, it's about going back to basics and doing the little things right because those goals will come, we've seen that from them," the interim head coach said. "Cyle is doing everything right but just missing that goal. Jonny will continue to work hard and the goals will come."
GOAL

Junior Hoilett gets one back for the #CanMNT but it's only a consolation goal as Japan leads 4-1 pic.twitter.com/yQcqdnTYvA

— OneSoccer (@onesoccer) October 13, 2023
The Canadians are coming off a disappointing Concacaf Gold Cup campaign, where they lost in the quarterfinal stage to the U.S. on penalties. They only played one game since then, which was a 4-1 loss on the road to Japan on October 13. Still, there are some positives, Derek Cornelius, CanMNT's centre-back, won the title with his club team, Malmö FF on Sunday. There is also the return of Stephen Eustáquio, who is in good form with FC Porto.
READ MORE: Derek Cornelius: The CanMNT's Important Centre-Back
Note: The game against the USMNT counted as a draw as Canada lost in a penalty shootout in terms of form of the last five games.
Learn About the Head Coaches of Both Teams
Mauro Biello, as noted, has only coached one game as head coach of the CanMNT. This is while the Jamaican head coach, Hallgrimsson, became the permanent head coach on September of last year. This is what Biello said about being the coach of the national team and wanting to go from interim to permanent head coach of the national team (source: Tom Nightingale of Canadian Soccer Daily):
This is what Hallgrimmson, formerly head coach of Iceland from 2013-18,, who was part of that Cinderella 2016 Iceland Euros team, said about becoming head coach of Jamaica back on September 2022 (source: Leighton Levy of SportsMax):
"When I was looking for projects to coach, I was selective. It was not about money, it was about the project, and for me, it was a perfect match to come to Jamaica and to try to fix what is broken, obviously, there are some obstacles we have to cross and we have to improve some big things but for me, it was a perfect match. I see so much potential here and if I compare this one to the Icelandic project I think the potential is much more than in Iceland," he said.
READ MORE: Mauro Biello: From Montreal To The CanMNT's Interim Head Coach
Both head coaches will be looking to make their name for the national team. For Biello, it is to establish himself as possibly the permanent head coach for Canada, while for Hallgrimmson, it could be the start of something special as head coach of Jamaica.
Head-to-Head Matchups
The CanMNT and Jamaica faced each other 23 times before. The last time these two teams met, Canada won a memorable game and made history with a 4-0 win over Jamaica at BMO Field in 2022. This resulted in Canada qualifying for the FIFA World Cup for the first time since 1986. The other game between the two teams in Concacaf World Cup qualifying resulted in a 1-1 draw at Independence Park in 2021. The last time Jamaica defeated Canada was in the 2017 CONCACAF Gold Cup, where Jamaica defeated Canada in the quarterfinals. It was also the Gold Cup, where Jamaica made the final of that competition.
Games Coming up for the CanMNT
A little rain don't faze us pic.twitter.com/R4v4Hh70kq

— Canada Soccer (@CanadaSoccerEN) November 16, 2023
PREDICTIONS: Jamaica 1 CanMNT 0
The CanMNT might have enough to get past Jamaica, but this game is going to be a struggle. It would not be surprising at all if Canada lost the first leg. However, with the presence of Alphonso Davies, expect Canada to be competitive on the road, but the forms of both David and Larin will be tested in this two-leg series.
The CanMNT will play two games to end their international window in November against Jamaica. The first game will be at Independence Park in Kingston, Jamaica on November 17 at 7:00 PM ET and the other on November 21 at 7:30 PM ET. Both games will be shown live on OneSoccer and also on Telus.
FIFA World Cup Qualifiers
27 March 2022 – Toronto, ON, CAN
Canada Soccer by Martin Bazyl
The post Jamaica vs CanMNT Predictions for November 17 appeared first on Last Word On Soccer.