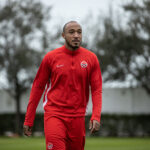 Derek Cornelius is the CanMNT centre-back and he also plays for Malmö FF in Sweden. He will be a player Canada will depend on. He is 25-years-old, and is a centre-back born in Ajax, Ontario. His height is 6'2″.
Derek Cornelius: The Important CanMNT Centre-Back
In his first season in Sweden, Derek Cornelius made 23 league starts, in which he became one of the league's top centre-backs, helped his side keep 11 clean sheets, chipped-in 3 goals, and captured the Allsvenskan title, the club's 23rd.@d_cornelius13 |#MalmöFF pic.twitter.com/hWLiiGklKz

— Axía Sports Management (@axiasportsmgmt) November 13, 2023
Derek Cornelius Background
Derek Cornelius was born to a Jamaican mother and a Barbadian father in Ajax, Ontario. He was selected for the Ajax Thunder under-eight team at the age of six. Cornelius then had success at a young age the season after that, where he won the Unionville Miliken Challenge Cup Champions Most Valuable Player and at the U11, won the C.O.V.I Championship and got the Most Valuable Player award. He also had success with CSKA Moscow in the Milk Cup. This is what Derek Cornelius said growing up was like in the Greater Toronto Area (source: Vancouver Whitecaps FC):
"Ronaldinho," Cornelius said on his favourite player, and then continued on his favourite TV show: "The Simpsons."
Cornelius in that same Whitecaps article, also stated who his inspiration is growing up:
"My father. His upbringing wasn't typical. He had a single mom, so he was the man of the household when he was young. He didn't really have a father figure to look towards. Most of the time when you're becoming a father you think "Okay, how did my father raise me?" But he didn't have that. So the job he's done with me and my sister, raising us and teaching us has been unbelievable in my opinion."
Cornelius also went to Montessori Learning Centre, a primary school in Pickering, and his mother, Karen, was a teacher at the school.
His youth career started with Ajax SC, then went to Spartacus SC (2009-11), Unionville-Milliken SC (2011-13), and ended with VfB Lübeck (2014-15).
Derek Cornelius' Professional Career
Cornelius' professional career started with VfB Lübeck, a team he played as a youth from 2014-15. He only played one game for them though. He then scored his first two goals with VfR Neumünster, but only played 17 games for them in 2016.
Javor Ivanjica (2017-18)
This is what Cornelius said according to Djuradj Vujcic of Red Nation Online:
"My first impressions of Serbian football were that the competition here is very strong. From my time in Serbia, I've noticed that the players here are very hard working and disciplined. I think because of this it allows Serbia to be strong in whatever sport they do."
This is what head coach, Javor vice-president Petar Lazovic, said about the move from then head coach,  Srđan Vasiljević (source: Djuradj Vujcic of Red Nation Online):
"Coach Vasiljevic is a former Serbian national team assistant coach and former director of the Red Star Belgrade youth program. With that expertise, he found a big talent in Derek and we are certain that through competing and hard work on and off the pitch Derek will become a key player for our team and also for the Canadian national team."
For Javor Ivanjica, he played from 2017-18, with 28 games played, he did not score a goal, but was the first team, where he played significant time with.
Vancouver Whitecaps FC (2019-22)
Cornelius' next move was in his home country of Canada. There, he got his first professional contract in Concacaf, where he played a significant time with.
Vancouver Whitecaps FC (2019-22)
He also got praise from then-Whitecaps head coach, Marc Dos Santos, who said this about Derek Cornelius (source: Vancouver Whitecaps FC):
"Derek is one of the top young players in a new generation of Canadian talent," said Whitecaps FC head coach Dos Santos. "For his age, he has the right composure and characteristics we look for in the centre-back position."
Cornelius played 35 games for the Caps and scored one goal. That was a late goal that helped Vancouver secure the draw against Sporting Kansas City. During that time period, he was also loaned to  Panetolikos (loan).
Panetolikos (2021-23)
Technically, Cornelius last season with the Whitecaps was 2021, as some of his time playing for Greek side Panetolikos was on loan. However, he played significant time with the club, playing 42 games overall and scoring two goals, a league that Cornelius enjoyed while playing there:
"It's a different league, with a good competition and good playing level. That's exactly what I wanted with the move, to challenge myself in different ways" Cornelius said. "Continue growing as a person and as a player. And just trying to reach higher levels and different heights."
Malmö FF (2023- Present)
The Swedish team, Malmö FF, is the team Cornelius currently plays for. A team that he is also excelling in as he played 24 games and has scored three goals. This is what acting head coach, Andreas Georgson of Malmö FF, said when being introduced to the team (source: John Jacques of The Northern Tribune):
"Derek is a skillful and athletic centre-back who fits very well into our style of play and requirements profile," added Georgson. "In addition, he has a winning personality that we believe will be appreciated by both the community and supporters when he gets going in January."
Cornelius has a chance to make some history with the club. He joined a team that finished seventh in the Swedish division, but was able to win the 2023 Allsvenskan this past Sunday as he started all 90 minutes against IF Elfsborg.
Derek Cornelius' Time With The CanMNT
Derek Cornelius has some individual accolodes with the CanMNT. He was the 2018 Canadian Men's Youth International Player of the Year as well as the 2020 Concacaf Men's Olympic Qualifying Best XI.
Great choice @GoldCup @d_cornelius13 #canMNT | #VWFC pic.twitter.com/KkFMkk5mry

— Vancouver Whitecaps FC (@WhitecapsFC) June 27, 2019
READ MORE: An Emphasis on "Brotherhood": Latest CanMNT Roster Reaction
An example can be seen in his goal against Honduras in the Concacaf Men's Olympic Qualifying, which shows his ability to score goals, despite being a centre-back for the CanMNT. Cornelius, made his debut with the national team on September 9, 2018, in a 8-0 win over the U.S. Virgin Islands. He has some great individual accomplishments with the national team, including being part of the 2019 Concacaf Gold Cup Group Stage Best XI. This is what Cornelius said about that win at BMO Field against the U.S. back in 2019 (source: Vancouver Whitecaps FC):
"I'd say the best game I've played in was the 2-0 win at BMO (Field) against the United States. The stadium, the fans, the importance of the game, the performance from the guys out there. It was just an unbelievable night."
Note that this might have changed as Canada qualified and made the FIFA World Cup. However, it also shows the ability of Cornelius, and why he will instrumental in this two-legged series against Jamaica.
Games Coming Up for the CanMNT
Canada will face Jamaica in the 2023-24 Concacaf Nations League competition, with the first game on November 17, while the second game will be played on November 21. The overall winner of the two legs will advance in the 2023-24 Concacaf Nations League competition and qualify for the 2024 Copa América competition. Losing would mean another chance to qualify via the play-in tournament, however, they would be eliminated from the Concacaf Nations League competition.
READ MORE: Mauro Biello: From Montreal to the CanMNT's Interim Head Coach
The game on Friday, November 17 will be at Independence Park in Jamaica at 7:00 PM ET and then will play home at BMO Field on Tuesday, November 21 at 7:30 PM ET. Both games will be shown live on Paramount+ and OneSoccer and it will be shown live in Canada on Telus. He is on the roster, but it remains to be seen how much playing time he gets in those two games.
Men's National Team Camp presented by Allstate
13 January 2021 – Bradenton, FL, USA
Canada Soccer
The post Derek Cornelius: The CanMNT's Important Centre-Back appeared first on Last Word On Soccer.