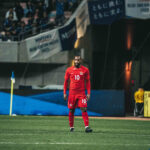 The Canadian Men's National Team (CanMNT) travels to Kingston on Friday in a crucial Concacaf Nations League matchup with Jamaica. This will be the first leg of the 2023/24 quarter-finals with the Caribbean squad being hosted by the CanMNT in Toronto on Tuesday.
CanMNT Predicted Lineup vs. Jamaica in Critical Away Leg
How the CanMNT Have Lined-up Recently
Mauro Biello's only game in charge of the squad came during October in a friendly match against Japan. Utilizing a 3-5-2 formation, the Montreal native oversaw a 4-1 loss which nearly ended in a shutout if not for a late Junior Hiolett goal. Milan Borjan started as the keeper while CanMNT's frontline consisted of Jonathan David and Cyle Larin.
The backline against Japan, from left to right, featured Kamal Miller, Dereck Cornelius and Alistair Johnston. Biello went heavy on the midfield, fielding five players, each with a variation of skills. From left to right the starters were Alphonso Davies, Jonathan Osorio, Samuel Piette, Ismael Kone and Richie Laryea.
Read More: An Emphasis On "Brotherhood": Latest CanMNT Roster Reaction
Not every player was on the pitch in their natural. Laryea, for example, is normally deployed as a defender. Johnston also plays on the backline in some instances, but both players were put out wide to try and create chances against the far-superior Japanese squad. Biello's sole game in charge has not given supporters much to go off of.
CanMNT Recent Form and Tactics
Before the October 13th friendly, and before Biello became the interim manager, CanMNT played in the June/July Concacaf Gold Cup. An unimpressive 2-2 draw with Guadalupe was not a hot start. A few days later the squad drew 0-0 against Guatemala. Needing a win in their penultimate group stage match, Cuba fell 4-2 as four separate scorers netted at Shell Energy Stadium.
Read More from the Author: Important Premier League Vote Will Take Place
The USMNT was Les Rouges' opponent in the quarter-finals. A hard-fought ninety minutes, and a late Steven Vitoria penalty kick, forced extra time. Thirty more minutes could not bring a difference maker. Despite all their hard work, three misses in the penalty shootout doomed the team. Only one fixture has been played since that July 9th knockout game, and since then new players and staff have been introduced.
CanMNT Injuries to Consider
Biello will have the advantage of using a fully fit squad. Barring an unexpected injury, all the players will be match-ready for both legs. There will be levels to their stamina, however. European players make up 13 of the 23 footballers called up for the two legs. Due to cross-continental travel and a heavy fixture list they could face more fatigue.
Your #CANMNT squad for the @CNationsLeague Quarter-Finals!

A spot in the 2024 Copa América is on the line!

Toronto Ticket Info : https://t.co/sz2kKY70QZ#CANMNT x @CIBC pic.twitter.com/n029PvjNb8

— Canada Soccer (@CanadaSoccerEN) November 8, 2023
READ MORE: Jamaica vs CanMNT Predictions for November 17
Domestic players, which include those spending club time in any of North America's top three leagues, will be less weary. Due to the fixture congestion that beleaguers the sport's top performers, though, it might not affect Biello's selection. Still, the relatively new coach needs the best out of his team and could seek to ensure they are not overworked.
CanMNT Predicted Lineup vs Jamaica (3-5-2)
As heavy favourites to advance from the quarter-finals, which guarantees a spot in next year's Nations League Finals and the 2024 Copa America, Biello is expected to maintain an aggressive formation against Jamaica. The 3-5-2 he utilized when facing Japan, although not successful against such a skilled opponent, could bear more fruit facing the Reggae Boyz.
Attackers
Up front, there is one player who is always expected to start. Jonathan David will assume his regular role on the right, but his partner in goal scoring will be different from the game against Japan. Tajon Buchanan has been impressing with Club Brugge in Belgium this season. Cyle Larin's poor club form takes him out of the starting lineup, but he could make an appearance as a substitute.
Midfielders
The three central components of Biello's midfield stay the same. Left to right, Osorio, Piette and Kone have remained anchors for both their club teams and CanMNT. Thanks to a rise in form with FC Porto this year, Stephen Eustaquio can be expected to get a chance to make a mark on the left wing.
Junior Hoillett will make a shock start on the right wing despite himself being a left winger. When he was subbed on to eventually score the only goal in their defeat to Japan, Biello brought off Kone and the 33-year-old Hoilett played on the right side of the pitch. His experience earns him the start in Kingston which could prove to be a hostile environment. Richie Laryea can expect to be used as a substitute.
Defenders and Goalkeeper
Milan Borjan starts in between the sticks, and could even captain the squad again as he has done in previous contests. Despite his age, he remains a favourite of each coaching staff he has played under. Kamal Miller will defend Borjan's left side with Alistair Johnston on the right. Steven Vitoria anchors the centre role, again due to his experience playing in Portugal and Poland, leaving Derek Cornelius to wait as a sub.
When and How to Watch the Match
Biello and the Canadian Les Rouges face the Reggae Boyz from Jamaica this Friday at 7 p.m. EST. The match will be played at Independence Park in Kingston, Jamaica's capital and largest city, and holds 35,000 supporters. Paramount is offering a streaming service of the game as well as OneSoccer, and will also be available on Telus in Canada.
Men's International Friendly
13 October 2023 – Niigata, JPN
Canada Soccer by Yusuke Ohki
The post CanMNT Predicted Lineup vs. Jamaica Concacaf Nations League, November 17 appeared first on Last Word On Soccer.