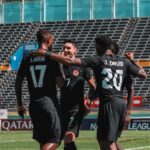 KINGSTON – It wasn't the prettiest of pitches in Kingston after last night's tropical storm, just like it wasn't the prettiest of performances from the CanMNT against Jamaica, but Mauro Biello's men got the job done in Leg 1 of the Concacaf Nations League Quarter-Final by the tune of a 2-1 victory. It was the first time in 35 years that Les Rouges have won in Jamaica in competitive matches.
CanMNT Grind 2-1 Win Over Jamaica
Defensive Woes A Worry for CanMNT
Interim Head Coach Mauro Biello decided to go with experience for his squad selection and thus chose the experience of Steven Vitoria and Kamal Miller as his back-line. Two solid centre-backs on their day, they had a less than ideal time in Kingston on Saturday, being saved by some poor finishing from Jamaica.
Leon Bailey could have had a first-half hat-trick, as Jamaica quickly found the Achilles heel for CanMNT's defence in direct, over-the-top balls in behind. Bailey had the pace and the technique to get in behind the defense on numerous occasions, but a lack of composure prevented him from being able to capitalize on them and open the scoring for the Reggae Boyz. Bailey even had glorious chance with a free shot at the back post off a corner to punish a sleeping backline, but his shot went off the post and out.
Second half did not prove to be that much better, as Canada's defence fell asleep on a quick free-kick in the 56-minute, allowing Shamar Nicholson to breeze past the defence and equalize for Jamaica. There were calls that the whistle wasn't blown by the ref indicating the play as live – something that Mauro Biello wasn't all the sure about either.
"I didn't review that [incident]" explained Biello to media after the match. "I mean, the players asked for the whistle and [Jamaica] took a quick free kick and were able to catch us out".
Canada will need to be much more sharp on Tuesday if they are to avoid an upset against a Jamaica side that will want to right their wrongs and punish mistakes.
Leon Bailey should have had a first-half hat-trick against #CanMNT. The fact he hasn't even scored once is staggering. #AVFC

— Tom Nightingale (@tdnightingale) November 18, 2023
Eustáquio Shines, Davies Falters
It was a mixed bag in terms of performances on Saturday morning, as certain players were struggling to adapt to the pace of the game amid the terrain and heat. One such player was star-boy Alphonso Davies, who has been in flying form for Bayern lately. Employed down the left flank, he tucked in often as a third midfielder when attacking. Unfortunately, for Davies, his passes, dribbles and decision-making were just off the mark today. At times, he looked like a man possessed to try to take everyone on and do it all himself, but often got dispossessed or intercepted. One particular concern was his set-pieces, which were erratic to say the least.
"[Alphonso] Davies is a left-footer on the ball, so from those parts of the field we want a left footer to deliver" noted Biello in the post-match presser. "At the end of the day, sometimes its difficult [to win crosses] when there's some mismatches in height… in the end we didn't concede but for sure there's always moments that we could do better".
One player who had the opposite impact was Stephen Eustáquio, who also has been in fine form for Porto as of late. He was a bright spot in the midfield, controlling the pace of the play and distributing the ball well. He was rewarded with the game-winner in the 86-minute, capping off a Man of the Match display.
"You know, if you've been watching him at Porto, he's being doing really well" commented Biello to media on Zoom. "When a player is coming out their club with that type of form, and they're able to transform it into the national team, it's great".
Your @GatoradeCanada Performance of the Match goes to Stephen Eustáquio! pic.twitter.com/FzIgcdp0eO

— Canada Soccer (@CanadaSoccerEN) November 18, 2023
David & Larin Pick Up Form for CanMNT as the CanMNT Edge Jamaica
Another pair that had good games were the duo up front in Jonathan David and Cyle Larin. Both strikers have not been in the same vein of form that they showed last season at club level at Lille and Valladolid, respectively. David has only two goals and one assist in 12 matches in Ligue 1 after being the clubs top scorer last season. Larin, meanwhile, has yet to register a goal contribution for his new side RCD Mallorca in LaLiga after 11 matches. Needless to say, both needed some big performances to boost their confidence after a rough start to the year, and boy did they get that.
Larin was dynamic off the bat, and used his physicality and speed to be able to shoulder off defenders to get into good spaces. It was exactly this ability that led to the first goal, with Larin turning his man, driving towards goal and laying it off beautifully for David to tap in. David was relatively quiet until that goal, but looked to sharpen up after giving his team the lead and almost gave Larin a stellar return-service just a few minutes later, laying it off to the Mallorca man at the penalty spot, but his effort went wide of the post.
While you could still see a distinct lack of sharpness in the pair throughout the match, it was a much-improved performance for the CanMNT strikers, and it will hopefully mean a slow return to form ahead of some important matchdays for both club and country.
CANADIAN COMBINATION

Larin x David pic.twitter.com/zoftNyttHN

— Canada Soccer (@CanadaSoccerEN) November 18, 2023
Note: With this win, the CanMNT are close to securing a berth in the Copa América. A draw or a win at BMO Field on Tuesday would mean Canada would qualify for the Concacaf Nations League Finals (final four) and the Copa América. Also, if Jamaica wins 1-0, Canada still advances via the away goal and if it is 2-1 Jamaica win, the game will go to extra-time/penalties. That game will be shown live on OneSoccer and Telus on November 21 at 7:30 PM ET. 
Photo Credit: Canada Soccer EN Twitter Account and Canada Soccer FR Twitter Account on November 18, 2023.
The post CanMNT Edge Past Wasteful Jamaica in Nations League Quarters appeared first on Last Word On Soccer.