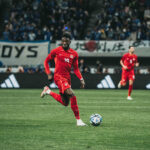 REACTION – On Wednesday, Mauro Biello revealed his CanMNT 23-man squad for the upcoming Nations League semi-final against Jamaica. The squad is full of the expected experience for such a crucial match like with Alphonso Davies and Jonathan David, plus a little look to the future.
Copa America On The Line: CanMNT Roster Reaction
Old Guard Still Remains, Meaning Fringe Players Miss Out
When the roster was announced, it was clear that Interim Coach Mauro Biello wanted to lean on what was familiar to get the best out of this CanMNT. A majority of the squad is made up of players who not only played in the 2022 World Cup but also in the qualifying for it over two years ago. Veterans like Milan Borjan and Steven Vitoria spearheaded the experience that the squad had, pointing to an emphasis on maintaining the brotherhood over transitioning the old guard.
"I was able to select the players that I wanted" said Biello to media on Wednesday afternoon. "I went with a group that's been in these moments before, a group of players that have a strong brotherhood, that have gone through a lot, and been able to react in pressure moments".
He also alluded to Borjan retaining his #1 spot between the sticks for this upcoming window, despite the recent renaissance for Maxime Crepeau after his long-term injury.
"He [Borjan] brings that experience that we need at the moment, and at the moment we're focusing in on that experience to come through in these next two games".
Many fans on social media were left feeling a little disappointed, hoping for Biello to take this opportunity to give some more younger blood the opportunity to step up for the country in crucial moments like against Jamaica. Time will tell if and when we start to see a transition towards a new-look side, especially with the 2026 World Cup at home creeping up ever so slowly.
The #CanMNT squad for the November window is out

Good to see Luc De Fougerolles in again, as well as Ali Ahmed. Exciting news

Surprisingly, though, Mark-Anthony Kaye and Lucas Cavallini are back in

Mauro Biello continues to go veteran-heavy, not wanting to rock the boat https://t.co/9QvFtiq9qj

— Alexandre Gangué-Ruzic (@AlexGangueRuzic) November 8, 2023
Surprise Inclusions, Surprise Exclusions for CanMNT
Since the World Cup, we have seen a number of players get some opportunities that we did not see prior to that tournament. Players like Victor Loturi, Dominick Zator and Charles-Andreas Brym, all who have moved on to Europe to ply their trade. We have even seen some call-ups for dual nationals in the mean time, like Zac McGraw and Tom McGill. It was then surprising to see that Biello decided against bringing a lot of these players that have been in the mix since the World Cup for this upcoming series, and opted to go for some more familiar-yet-out-of-form players like Jonathan Osorio and Mark-Anthony Kaye; the latter of which has not featured for the national side for eight months.
"I think Mark [Anthony Kaye] obviously has had that experience with the national team" Biello explained to media over Zoom. "He's gone to a World Cup, he's been through qualifying, you know. I think there was a resurgence when he left Toronto, and speaking to some of the staff there in New England, they were really happy with the way he's been performing."
Fans were also surprised to see Lucas Cavallini called upon once more, despite the recent good form from Ike Ugbo in Wales for Cardiff City. Ugbo has three goals and one assist already for Cardiff in just 14 matches. But there are some new faces that fans will be excited to see for the CanMNT, such as Luc De Fougerolles and Ali Ahmed. De Fougerolles, a dual national, has just recently played for Fulham in a Carabao Cup match and impressed, while Ahmed has been a huge part of the Whitecaps' success this season from the midfield.
And don't get me wrong. I have nothing but love for guys like Hoilett, Cava, Borjan, Vitoria, Osorio, etc. Even Kaye, through his club struggles, made contributions to get us to WC2022. They all have. But that cycle is over. #CanMNT https://t.co/9B1NUlZ1ZK

— KJ (@WpgGuerito) November 8, 2023
No Room For Mathieu Choinière
One name that many people have been frustrated not to see in the squad is that of Mathieu Choinière of CF Montreal. Choinière has had an impressive season despite his team's poor year, scoring five goals and notching two assists across 28 games. The versatile midfielder has been everywhere for Montreal across the season, filling in at left-back, left-mid, centre-mid and as an attacking midfielder. Yet, when asked about his omission, Biello looked towards his team's woes and personal injuries.
"With Mathieu [Choiniere], he injured himself during the camp for Japan [in October], and he missed Montreal's last match. Unfortunately, Montreal didn't train as a whole group, they trained in little groups, and for me I don't want to bring too many players that aren't in that rhythm, who haven't played for five or six weeks."
Many fans online feel it is a bit harsh to pin the team's training habits and Choinière's recent injury as a reason to not him in, especially when Jonathan Osorio and Toronto FC also didn't make the play-offs and yet was included into the CanMNT squad. This seems to reaffirm the sentiment that Biello is going for the names that have already proved their worth over the last few years rather than those that have perhaps only recently warranted a chance over the last 12 months.
#TFCLive's season has been done since September… Next excuse? https://t.co/G7i2O13m1i

— elias (@theegrigoriadis) November 8, 2023
NOTE: This roster of the CanMNT will play two a two-legged format for a chance to qualify for the 2024 Copa América. They will face Jamaica at Independence Park in Kingston, Jamaica on November 17 at 7:00 PM ET then will play again at BMO Field in Toronto, Ontario, Canada, on November 21 at 7:30 PM ET. The winner qualifies for the Copa América and advances to the 2023-24 Concacaf Nations League semi-finals stage, while the loser has a second chance to qualify via the play-in tournament, but are eliminated from the 2023-24 Concacaf Nations League competition.

Men's International Friendly
13 October 2023 – Niigata, JPN
Canada Soccer by Yusuke Ohki
The post An Emphasis on "Brotherhood": Latest CanMNT Roster Reaction appeared first on Last Word On Soccer.