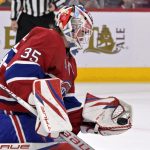 It's time for another edition of NHL rumours for your weekend. Teams are already trying to figure out what the future holds for a number of players. This means getting them under contract or making a deal to give them a new start. We've got two of the bigger-name teams as part of today's roundup. This edition of NHL rumours focuses on the Montreal Canadiens and the Philadelphia Flyers.
All NHL rumours come from the original source and are subject to change.
NHL Rumours
Montreal Canadiens
Rumour: During Saturday's Headlines segment on Hockey Night in Canada, Sportsnet's Elliotte Friedman said the Canadiens and Samuel Montembeault are in talks on a contract extension.
Saturday Headlines/32: Zadorov/Oilers/Montembeaulthttps://t.co/BSyAF6OzwA

— Elliotte Friedman (@FriedgeHNIC) November 12, 2023
Analysis: Montembeault has been a solid second option in goal for the Canadiens. The young goalie and Jake Allen have done a good job in a time-sharing situation in Montreal. He's probably not the long-term solution in between the pipes, but he's been fairly strong in his role. The Quebec City native is in the last year of a deal that sees him make $1 million per season. He's been a bargain and general manager Kent Hughes wants to reward the young netminder.
Friedman said that nothing is immediate, but things are moving in the right direction. Montreal does have room to play with over $5 million in space. Carey Price is likely done for the rest of his career barring a miracle and this means the Habs will have to patch it together. Montembeault has been fairly strong in his role of eating up games and keeping that young team in games.
Montreal is an exciting young club and has a great future. However, goaltending is one of the major uncertainties surrounding the team. Montembeault has been bandied about by teams that need goaltending. However, the Canadiens would love to keep the young goalie around to be part of the solution in net. The Habs have a great future and it seems that they want Montembeault to be part of it.
Montembeault could also get more time if someone comes and makes a deal for Allen that Hughes and president Jeff Gorton can't refuse.
Philadelphia Flyers
Rumour: Frank Seravalli of the Daily Faceoff said that teams are calling about forward Morgan Frost, who has been in and out of the lineup.
Analysis: Frost has been in the doghouse of John Tortorella this season and that's a hard place to get out of. The Barrie, Ontario native has been in the press box more than on the ice. Frost currently makes $2.1 million and is under contract until the end of the 2024-25 season.
The 24-year-old did have a 19-goal season in the 2022-23 season with the Flyers. However, it's been a lot harder to get points with a lack of ice time for the young forward. Seravalli did say there are a few teams that have checked in on Frost. However, the Flyers and general manager Daniel Briere would probably not get the value that they would have gotten in the off-season. The Daily Faceoff panel said Briere would have probably get 50-percent of the value than they normally would have.
It's hard to figure out how he got onto the bad side of Tortorella, but Frost probably wants a fresh start somewhere else. Seravalli hopes the Flyers want to do right by Frost and give him a change of scenery. However, it's a chicken and the egg type thing. How can he produce if he doesn't get ice time? The interest is there, but it's not at the point where a deal needs to be made really soon.
Main photo by: Eric Bolte-USA TODAY Sports
The post NHL Rumours: Montreal Canadiens and Philadelphia Flyers appeared first on Last Word On Hockey.