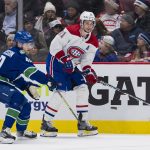 Welcome back to another day of NHL Predictions. Each day, Last Word on Hockey takes a look at the games that are happening and gives our predictions for each one, breaking down head-to-head and other factors that may play in. We also have a featured game of the day, which is considered must-watch TV. Today's featured game is the Vancouver Canucks vs Montreal Canadiens. Be sure to check out more NHL predictions in the coming days.
NHL Predictions
Florida Panthers vs Chicago Blackhawks
Head-to-Head: Panthers 1-0 Blackhawks
TV: NBC Sports Chicago; Bally Sports Florida; NHL Network
Out first game of NHL predictions has the Chicago Blackhawks taking on the Florida Panthers. Chicago got a 5-2 win over Florida earlier in the season. Arvid Soderblom will get the call in net for the Blackhawks, who have wins in three of their last five. Rookie Connor Bedard has seven goals already in this young campaign.
Sergei Bobrovsky is the projected starter for the Panthers, but always check social media before locking in a fantasy goalie. Florida has wins in three straight and four of its last five. The Cats have scored at least four goals in those three victories. Sam Reinhart has nine goals while Matthew Tkachuk has 10 assists.
Both teams are playing well, but the Panthers will get it done on home ice.
Prediction: Panthers win 4-2.
Dallas Stars vs Minnesota Wild
Head-to-Head: Stars 0-0 Wild
TV: NHL Network; Bally Sports North; BS Wisc.; BS SouthWest
The old rivalry with the Dallas Stars and Minnesota Wild is next in our NHL predictions. Dallas is coming in with wins in three of its last five and plays very sound defensive hockey. Scott Wedgewood is listed as the projected starter in between the pipes for the Stars.
Minnesota is coming off a pair of losses in the Empire State going into this game. Filip Gustavsson is the projected starter in net for the Wild, who have lost three of their last five. Joel Eriksson Ek and Mats Zuccarello have bright spots for the Wild.
Dallas has a strong defensive game and that will show tonight.
Prediction: Stars win 3-2.
Vancouver Canucks vs Montreal Canadiens
Head-to-Head: Canucks 0-0 Canadiens
TV: Sportsnet Pacific; RDS; TSN2
Our featured game of NHL predictions has a pair of teams coming off back-to-back nights. Vancouver is coming off a 5-2 loss to the Toronto Maple Leafs on Saturday night. The Canucks have been great under coach Rick Tocchet. Elias Pettersson has seven goals and 18 assists for 25 points to be one of the league's leading scorers. Casey DeSmith will get the start.
Samuel Montembeault will get the start with Montreal playing the night before. The Habs got a big win over the Boston Bruins in overtime. Kaiden Guhle got the OT-winner for Montreal for its second straight win in the extra sessions.
Both teams are defying expectations, but Vancouver gets the win.
Prediction: Canucks win 4-3.
Columbus Blue Jackets vs New York Rangers
Head-to-Head: Blue Jackets 1-0 Rangers
TV: MSG; Bally Sports Ohio
It's a Metropolitan Division battle between the Columbus Blue Jackets and the New York Rangers. Spencer Martin is the projected starter for the Blue Jackets, who have lost four straight. Booner Jenner is team captain and leads the team in goals with seven.
Artemi Panarin is on a 13-game point streak to start the season. Louis Domingue may get the call due to the uncertain health status of Igor Shesterkin and Jonathan Quick. The Rangers do have their bye week coming up after this game. Chris Kreider leads the team in nine goals with most on the power play.
Columbus put one of its better games together earlier, but New York gets the job done.
Prediction: Rangers win 5-3.
San Jose Sharks vs Anaheim Ducks
Head-to-Head: Sharks 0-0 Ducks
TV: NBC Sports California; Bally Sports San Diego; BS So. Calif.
Our last game of NHL predictions has the San Jose Sharks trying to get their third win in four games. Kaapo Kahkonen is the projected starter for the Sharks.
Lukas Dostal is the projected starter for the Anaheim Ducks, who lost two straight after a five-game winning streak.
San Jose is playing better, but Anaheim gets the win.
Prediction: Ducks win 4-2.
Main photo by: Bob Frid-USA TODAY Sports
Ages 21+. Gambling problem? Call 1-800-GAMBLER
The post NHL Predictions: Nov. 12 w/ Vancouver Canucks vs Montreal Canadiens appeared first on Last Word On Hockey.