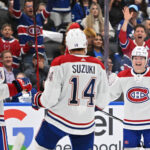 With the season already underway, the Canadiens lineup has taken shape and we can begin to set some realistic expectations for the team. But what are some of the more bold or unrealistic expectations? Let's go ahead and take a look at some of the bold predictions for the Montreal Canadiens in 2023-24.
Montreal Canadiens 2023-24 Bold Predictions
Following a slow start to the season, Canadiens captain Nick Suzuki had a bounceback game against the Buffalo Sabres. Suzuki produced two assists in the contest including on the game-winning goal in overtime from Cole Caufield. Suzuki had a career high last season with 66 points including 26 goals. He managed this while playing on a team that broke an NHL record for man-games lost along with finishing bottom five in the league. He also had a constant carousel of linemates all year.
Going from 66 to 90 points is a big jump no doubt. But a full year alongside Cole Caufield, as well as playing on an improved team, makes this feat possible for Suzuki. Suzuki broke his career high in a year when everything was against him accompanied by facing the pressures of being the new captain in Montreal. So imagine what he can do in a season where he has more favourable conditions. The 24-year-old proved he has no issues staying healthy so a full season from Nick Suzuki could see him surpass many people's expectations,
The Canadiens Finish Outside the Bottom 10
Many immediately have the Montreal Canadiens finishing in the bottom five at the season's end. Therefore labeling them Macklin Celibrini contenders. While it's unlikely the Habs have a shot at the playoffs, finishing outside the bottom 10 could be possible for this team. The team endured a season where they broke the man-games lost record and still managed to finish only fifth last in the league. The Canadiens also have the fifth easiest strength of schedule this season according to tankathon.com.
The team also improved in the offseason, adding forwards Alex Newhook and Tanner Pearson to the lineup. Some growth from many of the team's young players also should boost their status. The injury to Kirby Dach definitely hurts the team's chances. However, when you combine a healthy season with the Canadiens improvements in the offseason, Montreal should theoretically finish higher in the standings.
This one may be the most bold prediction of them all. Gallagher hasn't played a full 82 games since the 2018-19 season. We all know Gallagher's style of play will never change, so why is he less likely to get injured this year? Well, Gallagher had an offseason where he was completely healthy, after returning from injury at the end of last year. This allowed him to have a normal offseason regimen, something he hadn't had in many of the previous years.
However, probably the biggest factor in Gallagher playing a full season is his usage. He isn't asked to play big minutes for this club anymore. He is only averaging around 10 minutes of ice time per game. This sheltered usage may allow Gallagher to avoid many of the injury troubles that have plagued him throughout his career. Few players exhibit as much heart and passion as Brendan Gallagher does on the ice and he deserves some good fortune at some point.
Many have placed labels on this team and its players. Labelling them as a lock for the bottom five, labelling Nick Suzuki as nothing more than a second-line centre, and Brendan Gallagher as being made of glass. However, under the right conditions, we may see this team and its players surpass some of the expectations and break free from these labels. Therefore, keep an eye on the Montreal Canadiens in 2023-24.
Main Photo Credit: Dan Hamilton-USA TODAY Sports
The post Montreal Canadiens Bold Predictions for 2023-24 appeared first on Last Word On Hockey.